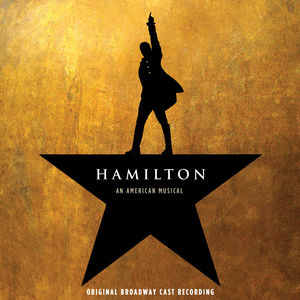 Hamilton
is the Broadway musical about the life of American Secretary of Treasury and Founding Father,
Alexander Hamilton
, with the lyrics, music, and book written by
Lin-Manuel Miranda
and based off of the biography
Alexander Hamilton
by
Ron Chernow
. The musical has made incredible box-office success in its Broadway production in the
Richard Rodgers Theater
as well as as its Off-Broadway debut at
The Public Theater
in Manhattan.
Background
Edit
Production and lyrics of the musical began when Lin-Manuel Miranda discovered the biography Alexander Hamilton, by Ron Chernow, in an airport while on vacation from his other Broadway hit In The Heights (off-Broadway 2005-2007). While reading it on vacation in Mexico, Miranda began developing early ideas of a musical revolving Hamilton and his life. After researching, he found that a play by the life of Alexander Hamilton did exist, though it dated back to 1917.
Adapted from the biography, Miranda began to draft lyrics and music in his spare time from In The Heights, and created the production The Hamilton Mixtape, brought to life by the Vassar Workshop (with Alex Lacamoire on the piano). The workshop earned a showcase at New York Stage and Film and gained very positive reviews from famous Broadway personalities. Miranda was later invited to the White House's Evening of Poetry, Music, and the Spoken Word, and, though he was set to perform music from In The Heights, he instead performed the opening number from The Hamilton Mixtape, the to-be version of the first song from the musical titled Alexander Hamilton.
With increasingly positive comments on the snippet of The Hamilton Mixtape Miranda performed, he then performed the workshop production of it at the Vassar Reading Festival, which was directed by Thomas Kail, with Alex Lacamoire on the music. From there it reached its Off-Broadway production in The Public Theater, with an entirely different company (excluding Daveed Diggs as Thomas Jefferson/Marquis de Lafayette and Christopher Jackson as George Washington) and after its debut would perform live on Broadway.
Songs in Cast Recording
Edit
Plot summary
Edit
Additional resources
Edit
Ad blocker interference detected!
Wikia is a free-to-use site that makes money from advertising. We have a modified experience for viewers using ad blockers

Wikia is not accessible if you've made further modifications. Remove the custom ad blocker rule(s) and the page will load as expected.