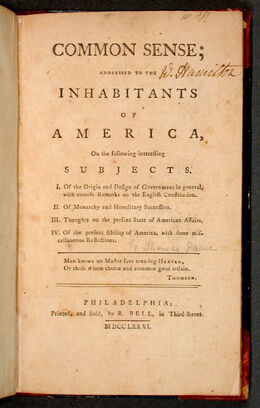 Common Sense was a pamphlet first published in 1775 and then rewritten and edited throughout 1775-1776 by Thomas Paine. The official edition was published in 1776, anonymously signed as Thomas Paine. The pamphlet gained popularity quickly, as Paine wrote persuasively through his intelligent words. The booklet encouraged people to support an egalitarian governmental system, which allowed for equal rights for all human beings, regardless of their race, color, gender, or any other biological traits considered "hindrances" in the later 1700's.
Ad blocker interference detected!
Wikia is a free-to-use site that makes money from advertising. We have a modified experience for viewers using ad blockers

Wikia is not accessible if you've made further modifications. Remove the custom ad blocker rule(s) and the page will load as expected.