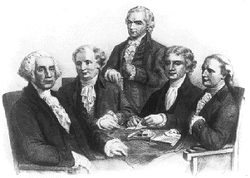 The Cabinet of the United States is a group made of of the most experienced senior members of the executive branch of the government who advise the President. The four original members of the Cabinet were Alexander Hamilton, Henry Knox, Thomas Jefferson, and Edmund Randolph; together they advised the first President of the United States, George Washington.
Cabinet meetings, referred to in Hamilton as "cabinet battles", are meetings within the Cabinet in which its members discuss the decision or course of action to make.
Ad blocker interference detected!
Wikia is a free-to-use site that makes money from advertising. We have a modified experience for viewers using ad blockers

Wikia is not accessible if you've made further modifications. Remove the custom ad blocker rule(s) and the page will load as expected.