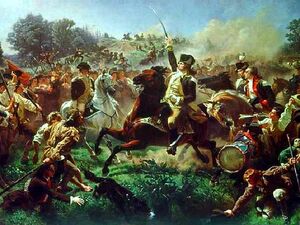 The Battle of Monmouth is a war in the sequence of battles of the American Revolution that occurred on June 28, 1778. The Continental Army, under General George Washington's command, attaced the British forces in Monmouth County, New Jersey. A major event during the Battle of Monmouth was the untimely retreat by General Charles Lee, after which Marquis de Lafayette took the lead under Washington's order.
Song References
Edit
"He shits the bed at the Battle of Monmouth"
Ad blocker interference detected!
Wikia is a free-to-use site that makes money from advertising. We have a modified experience for viewers using ad blockers

Wikia is not accessible if you've made further modifications. Remove the custom ad blocker rule(s) and the page will load as expected.